2 lbs ground Beef
1 Lg onion (chopped – yellow or white whatever)
1 green pepper – (seeded & chopped in as big as pieces as you like – I like small chop, but not minced)
1 can Light Red Kidney Beans (get a 2nd can if you like more)
1 Can Dark Red Kidney Beans
1 Can diced Tomatoes (Basil Garlic is a good choice)
1 small can tomato sauce
2 cloves of garlic minced (add more if you like more garlic)
3 teaspoons or 2 tbls spoons of Chili Powder
1 Bay Leaf (if you have it – if not no big deal)
Salt & Pepper to taste 
Optional
1 teaspoon of cumin if you have it – if not no big deal
½  jalapeno – (seeded then chopped) wash your hands before going to the bathroom, trust me on this one.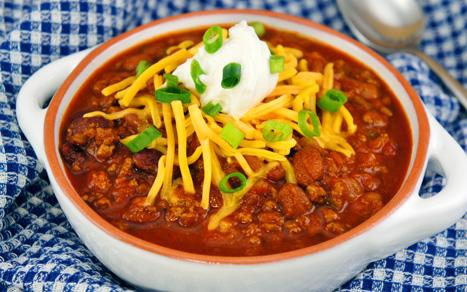 In a large saucepan over medium high heat, combine the ground beef, onion and bell peppers. Saute for a couple minutes then add garlic.  Once the meat is brown you can drain excess fat if there is any or leave it – shouldn't be that much and adds flavor. 
Add the chili powder, garlic, bay leaf, can tomatoes, and tomato sauce and salt and pepper to taste. cumin, (if you like heat add jalapeno or a little hot sauce) Bring to a boil then take off heat and put into slow cooker, stir in the Beans.  Cover and put on low for 1.5 or 2 hrs.  If you're around stir it once and a while and if you think it needs anything add it.  
Get a nice loaf of bread and butter, or chopped cole slaw, always a nice compliment with chili