1 or so lbs of Ground Beef
1 or so lbs of Ground Pork
2 lg eggs lightly scrambled
1/2 c bread crumbs
1/3 to 1/2 cup diced canned tomatoes – a little  more if you like less if you don't (basil & garlic works)
3-4 slices raw bacon
2 tblspn Olive Oil
1.5 – 2 cups chopped yellow onion (about 2 med sized)
1 tsp tyme
2 tsp salt (I prefer Kosher)
3 tblspn Worchestire Sauce
1/3 cup Chicken Broth
3 tblspn of Ketchup ( one big squirt) OR 1 tblspn of Tomato Paste
Optional – Spinach 2 cups baby leaf spinach (steamed) remove the stems if they're long
* NOTE – the meat can be substituted for Turkey and tastes just as good.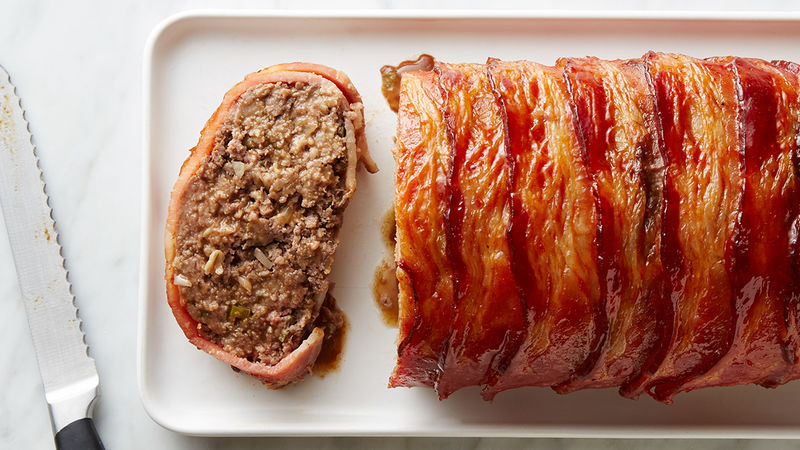 Saute chopped Onion, Tyme & Salt in 2 tbsp of olive oil,  (I like Kosher but use what you got) until slightly soft but not brown, about 5-7 min.  Take off the heat and add Worchestire sauce,  chicken broth, add Ketchup or Tomato paste, stir so paste is broken down.  IF you have spinach and would like to add, put in 2 cups baby leaf spinach or whatever fresh spinach you have, try to remove the stems if they're big. ( Cover so spinach wilts or you can steam spinach in sperate pan while you do the onions.)
Put the 1 lb Pork and Ground Beef in a large mixing bowl, add 2 slightly beaten eggs  and  bread crumbs, mix well but gently so you don't breakdown texture of the meat.  Add the cooled onion mixture & spinach and 1/3 to ½ cup of Diced Tomatoes depending on how much you like.  ( If using a can, chop up the tomatoes a little more so they are not such big chunks).  Mix again with a fork but don't over mix just so all ingredients are  blended.  Mix should look moist and loose.
Line a cookie sheet with aluminum foil (makes for easy clean up).  Place the blob of meat in middle of the pan and form into loaf, you can place a long piece of saran wrap on top of the meatloaf length wise to make forming the meatloaf into a loaf easier and without making a mess.  IF you have time, with saran wrap still on the meatloaf stick in fridge for 30-min or so.   This just helps the meatloaf keep its form.  IF you don't have time no biggie.  Add 3-4 strips of bacon on top of the meatloaf length wise    
Heat Oven to 375 degrees – wait til oven has been at cooking temperature for at least 5 min. before putting in the oven.  
Place on a Rack in middle of the oven for 50-60 min or until temp reaches 160.  If the bacon does not crisp up to your liking stick under broiler for a few minutes but don't take your eyes off it – it will cook quick. Bacon is done its done – Enjoy.